News and Events Archive
Main Content
News and Events:
Fall 2019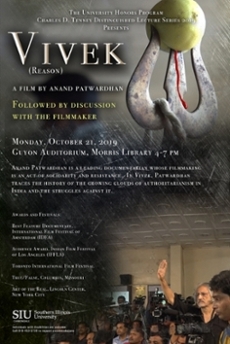 The Charles D. Tenney Lecture, Fall 2019 will feature a film screening and discussion with the filmmaker.  Anand Patwardhan will screen Vivek/Reason a documentary  epic which traces the rise of authoritarianism in India and resistance to it. A rare opportunity to meet one of the world's leading documentary filmmakers and experience the power of cinema as the maker and keeper of history on the side of struggles for democracy and justice.
October 21, 2019: "Vivek" A film by Anand Patwardhan, followed by discussion with the filmaker. Read more
---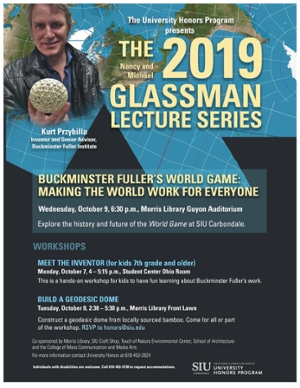 Inventor and Senior Advisor at the Buckminster Fuller Institute, Kurt Przybilla, will be at SIU to facilitate dome building workshops, and to deliver a lecture.
October 7, 2019: "Meet the Inventor Workshop" This is an excellent opportunity for kids to meet an inspiring person and have a visceral experience of how math applies to form in a fun atmosphere. Students that are interested in building, math, art and science would be great candidates. We are seeking 6th, 7th and 8th graders for this unique educational opportunity. 
October 8, 2019: "Build a Geodesic Dome" Join inventor, Kurt Przybilla, in constructing a geodesic dome from locally sourced bamboo!
October 9, 2019: "Buckminster Fuller's World Game: Making the World Work for Everyone" Part of the 2019 Glassman Lecture Serious, explore the history and future of The World Game at SIU Carbondale.
---
The University Honors Program collaborates with campus colleagues to celebrate a month around Labor and Art. From August 29-September 27, there will be poetry reading, presentations, screenings, and an art exhibit.  Check it out here
What's Happening in Fall 2019 at a glance  
To keep up with Honors News, read our 4-1-1
---
Inaugural Faculty Showcase and Student Awards:  Tuesday, October 1, 3-5 PM Morris Library.
Spring 2019
February 5-9, 2019:  Celebrating the 50th anniversary of Buckminster Fuller's Operating Manual for Spaceship Earth legacy: Read more about Buckminister Fuller's 50th Aniversary.
A Month of Julius Caeser:  April -May 4, 2019:  In conjunction with SIUC's Theater Department's production of Julius Caesar, Professor Avrahm Oz will deliver the keynote address.  But, we have a month long set of activities planned in collaboration with the Departments of English, Cinema and Photography, Languages, Culture and International Trade and the Classics Club.  Read more about Julius Caeser month.
Our students do us proud at the Honors Council of Regional Illinois Conference, February 2019.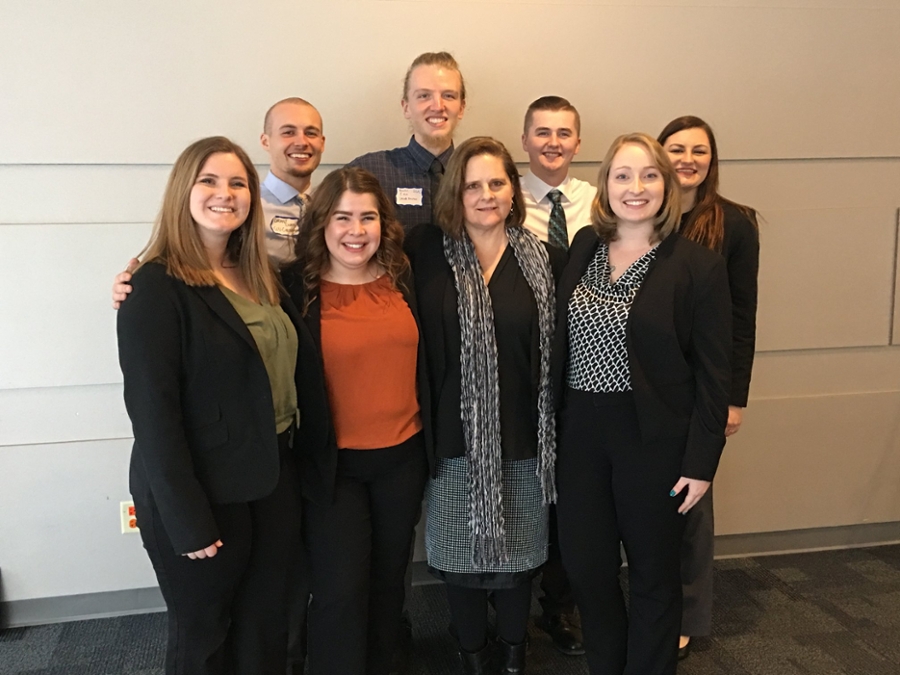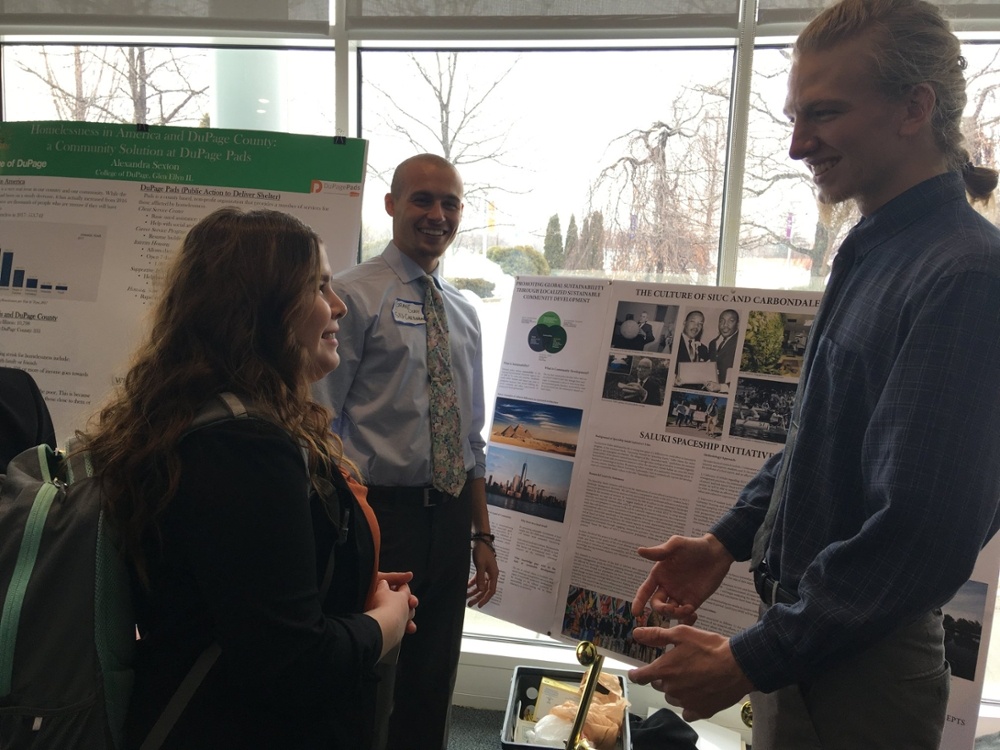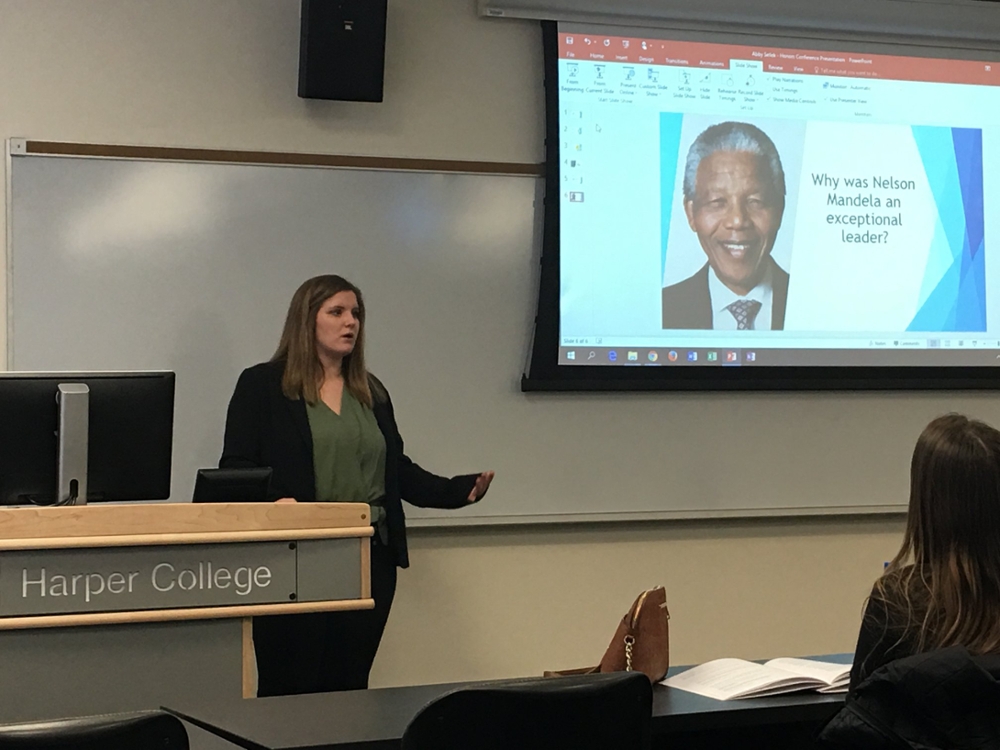 Back Row: Grant Depoy, Jacob Bolton, Adam White, Jessica Jurak
ront Row: Abby Sellek, Rachel Stuckel, Dr. Melinda Yeomans (Associate Director, UHP), Emily Buice.
Presentation titles:
Grant Depoy and Jacob Bolton, The Saluki Spaceship Initiative: Evergreen Model
Jessica Jurak, Improving Early Detection of Cancer Using Laser Ablation-Resonance Enhanced Photoionization Mass Spectrometry (LA-REPMS)
Adam White, Recent Advances and Discoveries in RNAi Technology
Abby Sellek, Insights for Developing Millennial Leaders: How to Cultivate Character and Inspiration
Emily Buice, From Foreign to Familiar: Mac & Cheese's Journey to America's Comfort Food
Rachel Stuckel, Spanish/English Bilingualism in the United States: How Cultural Awareness and Education Could Help Latinos Form a New Identity
"Having the opportunity to travel with a group of intelligent and kind Honors Program affiliates was inspiring, fun, and helpful!  I had fun interacting with students with diverse interests that all coalesce into aiding humanity and Earth.   Happy to be here!"
Jacob A. Bolton
Honors Lecture Series
Each year, the UHP brings distinguished speakers to our campus.  These presentations offer an opportunity to bring together various disciplines to consider significant questions related to the human condition. In addition to the public lecture, we host workshops, critiques, and explore other forms of intellectual exchange and collaboration.  There are two major lecture series:
MICHAEL & NANCY GLASSMAN LECTURER SERIES were established by Micahel and Nanacy Glassman.  Nancy and Michael met when they were students at SIUC and have continued to support SIUC by establishing the Lecture series. The list of our distinguished speakers is here.
The CHARLES D. TENNEY DISTINGUISHED LECTURER SERIES is named after Charles D. Tenney, who joined the English Department in 1931 and played a significant role as the Provost in transforming SIU from a teacher's college into a research university.  The series is animated by the ambition to  to bring the university together in reflecting on big problems, concerns and themes that confront us. The list of our distinguished speakers is here.