Honors Faculty News
Main Content

Honors Faculty News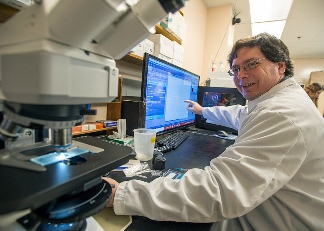 Dr. Hamilton Brehm is part of the SIU team working on testing kits for Covid 19. Read more.
Dr. Hamilton-Brehm leads a team of researchers who have recently isolated a bacterial genus found deep beneath the area formerly known as the Nevada Test Site; a life form that is anaerobic and thrives at hot temperatures. Read more.
Dr. Jeffrey Punske has published, Language Invention in Linguistics Pedagogy (Oxford University Press, 2020).  Coedited with Nathan Sanders and Amy Fountain.
Dr. Walter Metz, Department of Cinema and Photography presented, The Long and the Short of the Romanoffs at the Literature/Film Association Conference. Portland State University; and Television's Liberal Blackface: A Reception-Based Interrogation at the Reception Study Society Conference. Brigham Young University. Provo, UT. September 27, 2019.
Dr. Pinckney Benedict, Department of English, presented, The Page that becomes Immortal: Borges, Homer's Odyssey, and Virtual Reality, at the Annual Classics Symposium at Hollins University in Roanoke VA, October 2019
Jyotsna Kapur, University Honors Program, presented "What is home in a capitalist world? At 7 p.m., Sept. 12, at Southeast Missouri State University's Catapult Creative House in Cape Girardeau. The lecture is part of the university's "After Hours: Conversations on Art and Culture" series.