What's Happening in Honors
Main Content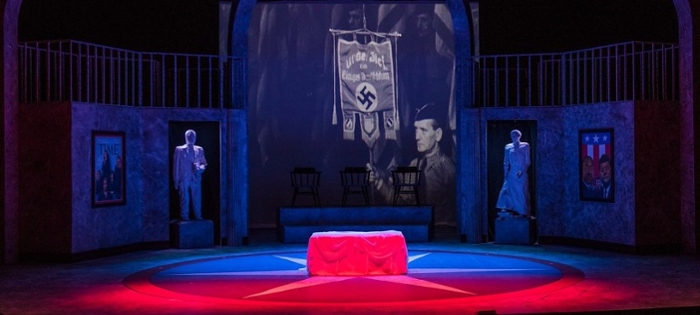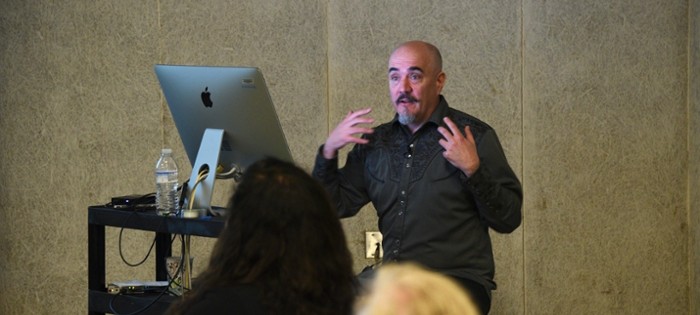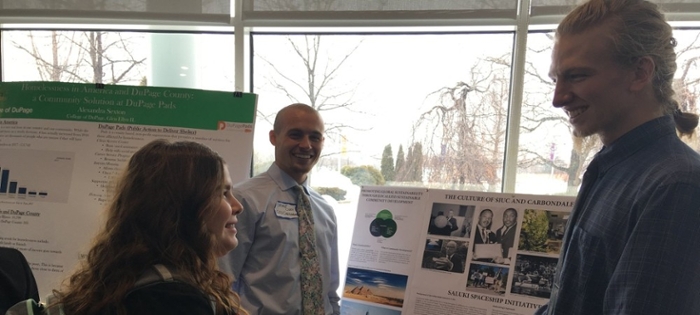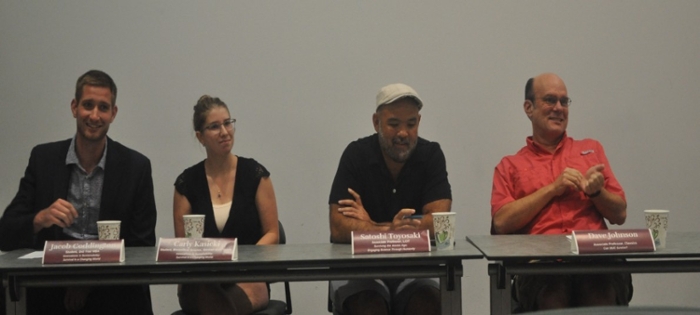 Spring 2020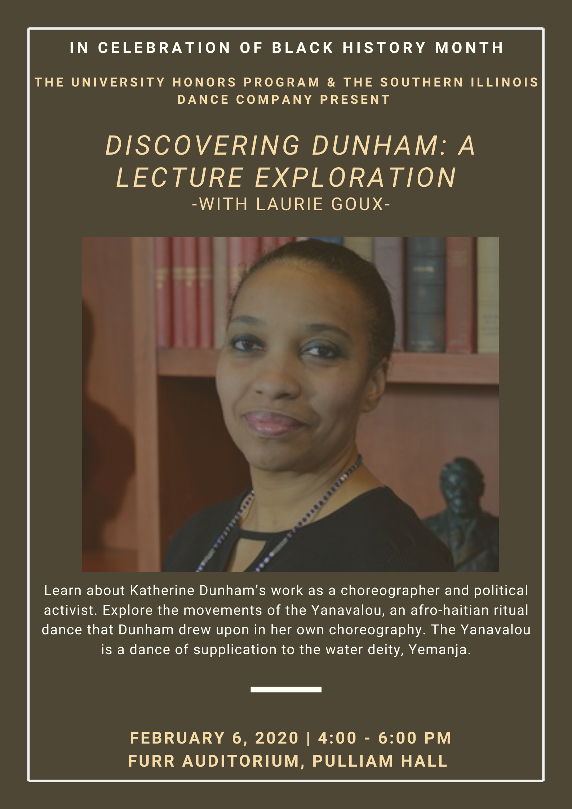 Discovering Dunham: A Lecture Exploration with Laurie Goux:  In celebration of Black History Month,  Laurie Goux will give a lecture-explortaion, in which she will speak about Katherine Dunham's work as a choreographer and political activist and explore the movements of the Yanavalou, an Afro-Haitian ritual dance that Dunham drew upon in her own choreography.
Thursday, February 6th, 4-6 PM, Furr Auditorium
---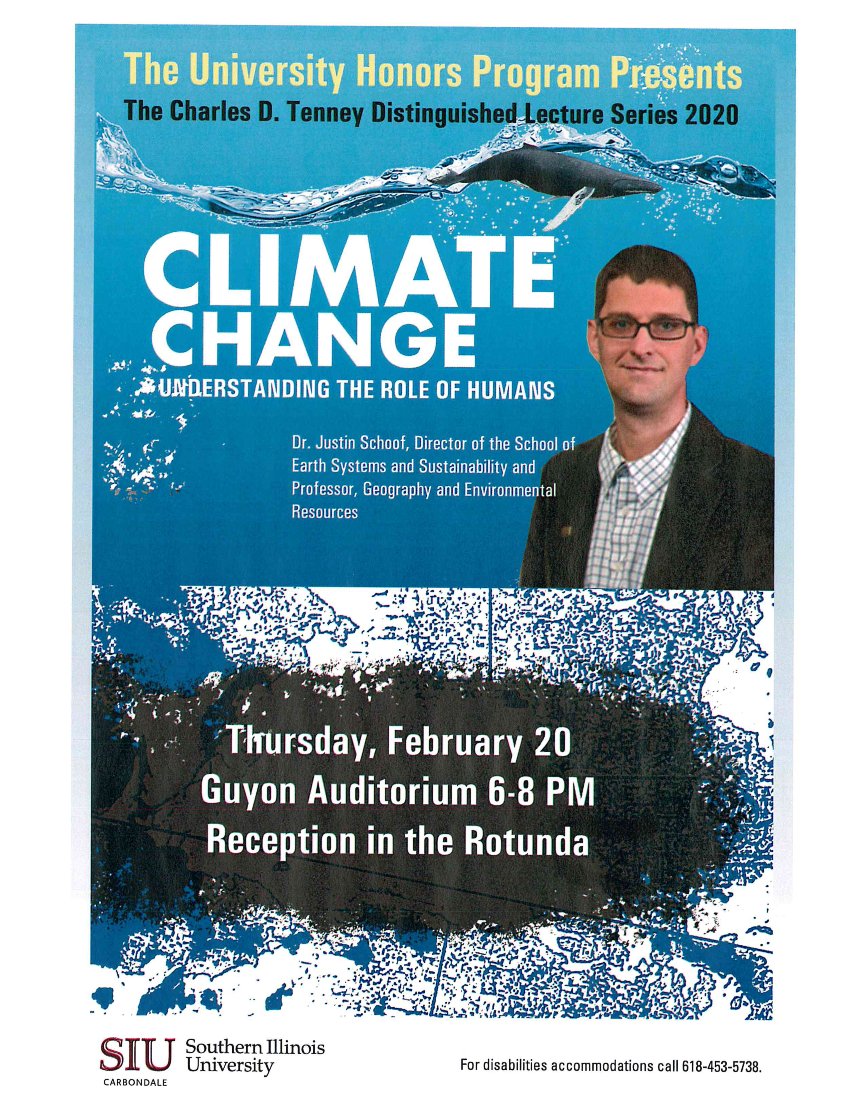 The Tenney Distinguished lecture, Climate Change: Understanding the Role of Humans will be delivered by Dr. Justin Schoof, Professor Geography, Director, School of Earth Systems and Sustainability. Read more
Thursday, February 20th, 6-8 PM, Guyon Auditorium
---
Survival Cluster Faculty Showcase:  Dr. Kenneth Stikkers (Professor, Philosophy); Dr. David Lightfoot (Professor, Plant Soil and Agricultural Systems); Dr. Logan Park (Associate Professor, Forestry Recreation and Park Management); Dr. Alfred Frankowski, (Assistant Professor, Philosophy); and Dr. Jean-Pierre Reed (Associate Professor, Sociology) will present on their research-teaching in relation to the year's theme, Survival.
Tuesday, March 3rd, 4-6 PM, Guyon Auditorium
---
Film screening and presentation:  Nostalgia for the Future (Avijit Mukul Kishore, 2017) 54 min.  The film reflects on the concept of home in the Indian imagination over the 20th century.  (Collaboration between Library, School of Architecture, MCMA, and Honors).
Friday, March 27th, 6-8:45 PM
---
Student showcase from Survival cluster:  Presentations of research, exhibit and performance.
Wednesday, April 8th, 6-8 PM, Guyon Auditorium
---
Celebrating Earth Day via Buckminster Fuller's legacy:  A series in collaboration with the Touch of Nature that invigorate Bucky's Haven (near the Boat Dock) into a tribute to Fuller and a performance space.
April 13-17 
---
Fall 2019

Survival Cluster Student Showcase:   Survival and the Arts (Professor Laurel Fredrickson) is having a showing of Ai Weiwei's film Human Flow December 5th at 6PM In Morris 724. Innovations in Sustainability (student-generated by Carly Kasicki & Jacob Coddington); Forests and Humans (Professor Cade Bursell); and Survival Stories (Professor Pinckney Benedict) will showcase work and make presentations, December 6th from 5:30-7:30PM in the Morris Library Guyon and Rotunda.
December 5th and 6th, 2019
---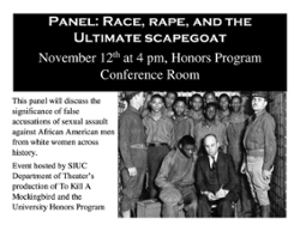 Race, Rape and the Ultimate Scapegoat:  In anticipation of the Department of Theater's production of To kill a Mocking Bird. Written by Harper Lee and Directed by Segun Ojewuyi,  the Honors Program hosted a discussion featuring Dr Jyotsna Kapur (Professor, Cinema and Photogtaphy), McCall Logan (MFA Student in Playwriting, Instructor, Women, Gender, & Sexuality Studies), Caleb R. McKinley-Portee (PhD Student in Communication Studies, Representative for Africana Studies), and Victoria Estes (Theater Undergraduate studying Dramaturgy and Playwriting).  The title of the panel was taken from Tracey Owens Patton and Julie Snyder-Yuly, Any Four Black Men Will Do: Rape, Race, and the Ultimate Scapegoat, Journal of Black Studies, Vol. 37, No. 6 (Jul., 2007), pp. 859-895
November 12th, 4-6 PM, Morris 112
---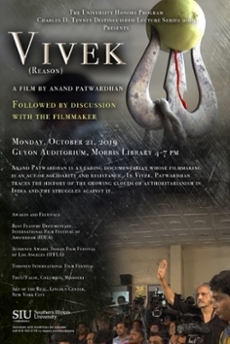 The Charles D. Tenney Lecture, Fall 2019 features a film screening and discussion with the filmmaker.  Anand Patwardhan will screen Vivek/Reason a documentary  epic which traces the rise of authoritarianism in India and resistance to it. A rare opportunity to meet one of the world's leading documentary filmmakers and experience the power of cinema as the maker and keeper of history on the side of struggles for democracy and justice.  In the press

October 21st, 2019: Screening and discussion 4:00-6:00PM, to be followed by a reception; Guyon Auditorium, Morris Library. 
A Review of Reason by Jyotsna Kapur in Jump Cut, No. 59, Fall 2019
---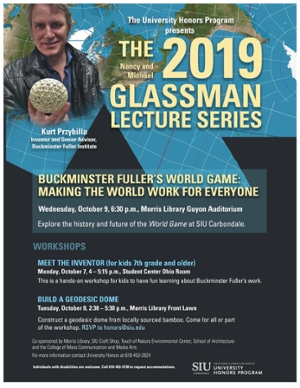 The Nancy and Michael Glassman lecture will be delivered by Kurt Przybilla, a celebrated inventor and educator, known for his media-based interactive projects that teach children complex math principles. He is particularly known for his invention of "Tetra Tops," the world's first spinning top with more than one axis of spin, featured in the New York Times and the Smithsonian Institute.
Przybilla will speak on Fuller's "World Game," a concept that Fuller proposed in the 1960's here at SIUC as  "…a tool that would facilitate a comprehensive, anticipatory, design science approach to the problems of the world." 
October 9th, 2019: Guyon Auditorium in Morris Library on Wednesday, 6:30 p.m. - 7:30 p.m., followed by a reception.
October 8th, 2019: "Build a Geodesic Dome" Join  Kurt Przybilla, in constructing a geodesic dome from locally sourced bamboo in the Morris Library quad from 2:30 p.m. until 5:30 p.m.   
October 7th, 2019: Meet the Inventor Workshop. Przybilla will conduct a workshop with 6th, 7th and 8th graders on geometric construction, 4-5:15, Student Center Ohio Room. 
Recording of Kurt Przybilla's lecture
---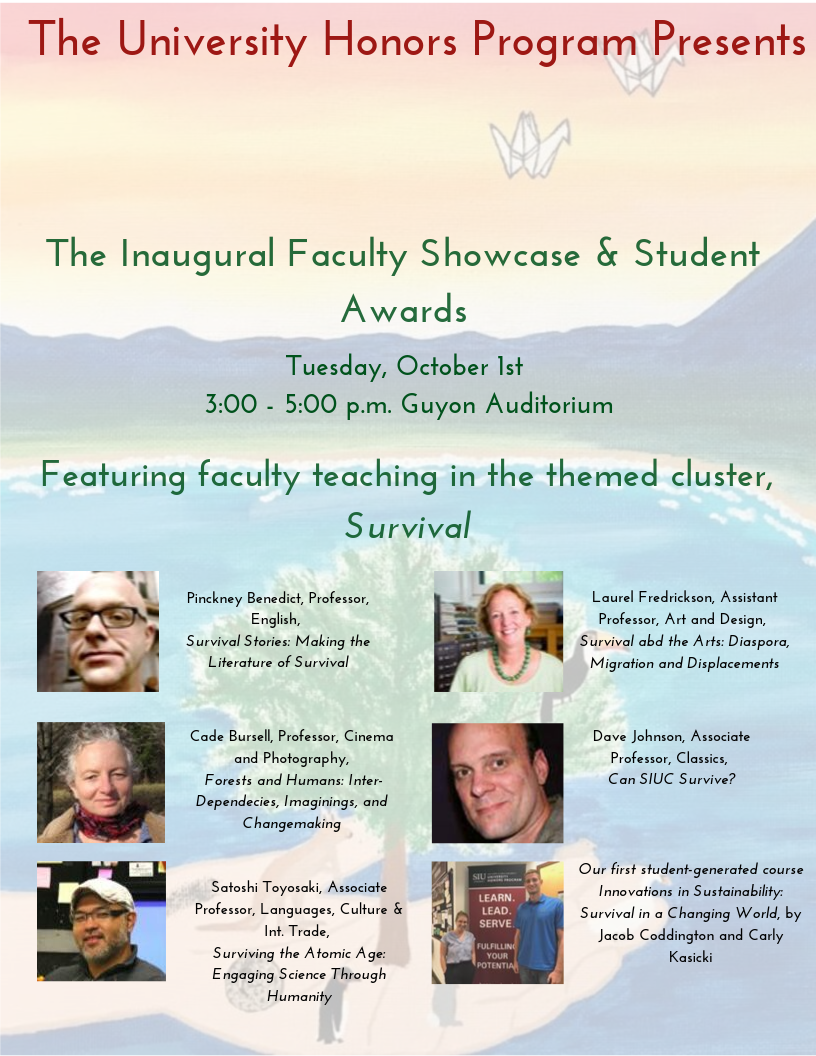 From Fall 2019, some University Honors Seminars have been organized around a themed cluster.  Our Fall 2019-Spring 2020 theme is Survival. The Inaugural Faculty Showcase and Student Awards ceremony highlights students on their accomplishments, as well as provides faculty with the platform to share what their students are studying throughout the semester; including our first student generated course.
October 1st, 2019: Inaugural Faculty Showcase and Student Awards, 3:00 pm until 5:00 pm, Guyon Auditorium in Morris Lirary 
Honors Lecture Series
Each year, the UHP brings distinguished speakers to our campus.  These presentations offer an opportunity to bring together various disciplines to consider significant questions related to the human condition. In addition to the public lecture, we host workshops, critiques, and explore other forms of intellectual exchange and collaboration.  There are two major lecture series:
MICHAEL & NANCY GLASSMAN LECTURER SERIES were established by Micahel and Nanacy Glassman.  Nancy and Michael met when they were students at SIUC and have continued to support SIUC by establishing the Lecture series. The list of our distinguished speakers is here.
The CHARLES D. TENNEY DISTINGUISHED LECTURER SERIES is named after Charles D. Tenney, who joined the English Department in 1931 and played a significant role as the Provost in transforming SIU from a teacher's college into a research university.  The series is animated by the ambition to  to bring the university together in reflecting on big problems, concerns and themes that confront us. The list of our distinguished speakers is here.