Serve
Main Content
SERVICE OPPORTUNITIES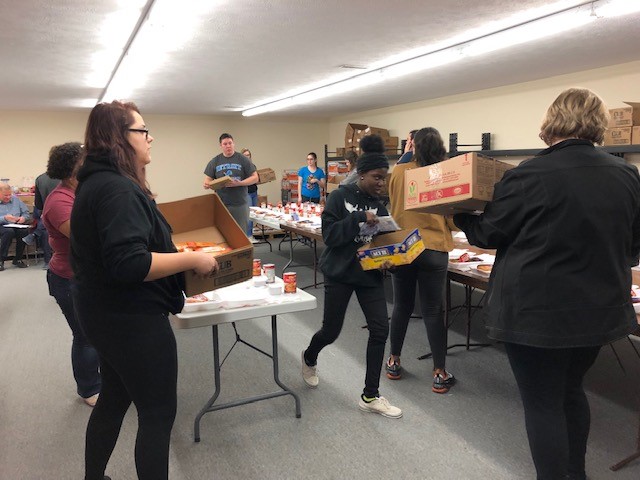 Packing food for area kids at Gum Drops.
One of the distinguishing features of the Honors student is their commitment to service and leadership.  Our students are actively engaged in the community, effectively enhancing their learning experience and broadening their horizons. 
We sponsor the following service opportunities:
Saluki Scholars in Action:  Students tutor and mentor students in the Carbondale School District, grades K-8.

Green Earth Sanctuaries:  help with trail maintenance, invasive species removal 

Gum Drops: Volunteers

help pack food packages

food for area school kids 

Washington Street Community Garden:  grow food in a community garden in the heart of town.
Trips are announced in 4-1-1 and you can reserve a space on first come basis.
We also take up requests from campus and community groups as they arise.  Look out for announcements in 4-1-1.   You can also volunteer with any of the activities listed in the Center for Service Learning and Volunteerism portal.
Please enter your hours directly in the Center for Service Learning and Volunteerism portal or fill in the Honors Civic Engagement Form and turn it into the Honors Program.
Why Civic Engagement?
Students who participate in civic engagement tend to excel academically.
Embracing the spirit of volunteerism and service to community are essential components of educating the whole student - Learn. Lead. Serve.
Civic engagement improves your mental health, positively contributing to higher levels of happiness, self-esteem, and life satisfaction.
Civic engagement enhances your understanding of diverse cultures and communities and connects you with others through shared experiences.
Honors students are leaders at the university and will be leaders after graduation – our communities need leaders who care about others.
Civic engagement will increase your awareness and understanding of community concerns and issues.
 The rewarding, highly satisfying feelings of accomplishment are priceless: "Kindness is one thing you can't give away; it comes back to you." 
Interactive, hands-on, practical applications of classroom learning provides students with personal characteristics and skills highly sought by graduate schools and employers.
For more information about University Honors Program Civic Engagement, please contact David Milley, Assistant Director, at milleydr@siu.edu or 618-453-1691.
UHP is committed to enabling our best and brightest to reach their utmost potential. Students from all academic disciplines said that the UHP has been the highlight of their academic careers.
We hope you will consider making a tax-deductible contribution and "invest in excellence" at SIU. More information about contributing can be found here.