Student Research Highlights
Main Content
Katherine Held publishes her paper, Defending ESG Fiduciary Duty, in Aesthesis: The Interdisciplinary Honors Journal, Vol. 14 No. 1 (2023). The paper is based on her senior thesis, advised by Dr. Kevin Sylwester, Professor and Interim Director, The School of Analytics, Finance, and Economics.
2022 – 2023 Research-Enriched Academic Challenge Awards (REACH)
The REACH award offers the opportunity for undergraduate students to work with a faculty member on independent creative activities or research.  Congratulations to our Honors students for winning twelve out of the twenty-one university awards!

     •  Claire Ayers                                •  Eli Jones                        
     •  Caitlyn Bartsch                           •  Ryaan Ligon
     •  Gabriella Burkett                         •  Claire Morrical
     •  Vanessa Coogan                        •  Trinity Price
     •  Caleb Hoffman                           •  Amber Sanchez
     •  Aleida Iriarte                               •  Erin Sedlacek
Student Research Highlights
Myla Croft and David Hernandez present their research at the McNair's Scholars Summer Research Symposium. Myla Croft, an Honors student at Southern Illinois University Carbondale's Department of Political Science, presented her research with Dr. Stephen Bloom on "Politics Prevails: A Comparative Analysis of Trump and Biden's Executive Actions on Mexican Asylum Seeker". David Hernandez, an Honors student at Southern Illinois University Carbondale's Department of Biological Sciences, presented his research with Dr. Kamal Ibrahim on"Mapping Gene Flow and Biodiversity Across the Mississippi River Using Landscape Genetics and DNA Barcoding of Formicidae". Read more.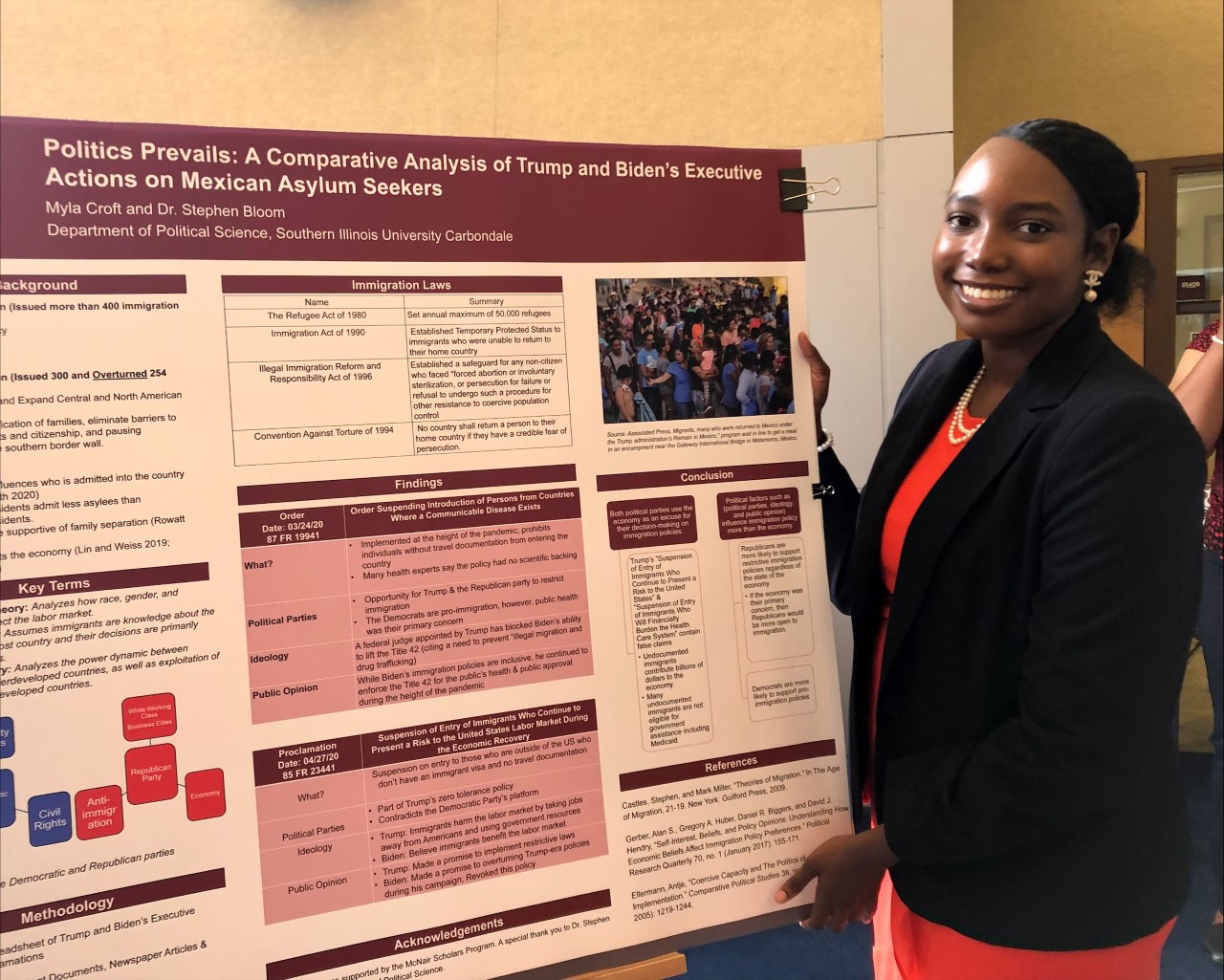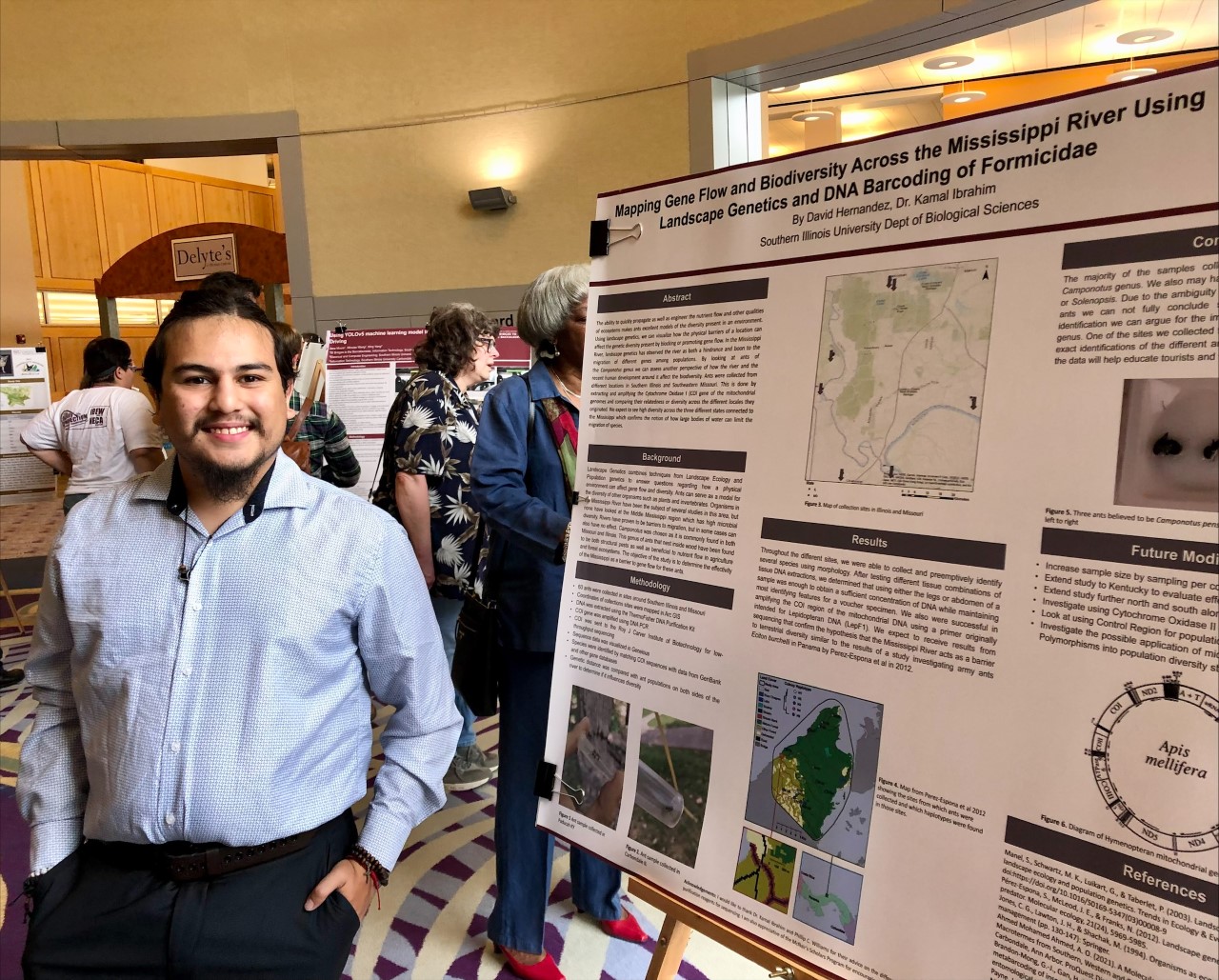 Arianna Goss, a junior in Southern Illinois University Carbondale's Health Care Management program, is the recipient of the 2021 Foster G. McGaw Scholarship from the Association of University Programs in Health Administration (AUPHA). She has also published with Drs. Sandy Collins and Jessica Catlado, "Feasibility of Virtual Reality for Mental Health in Long-Term Care in Rural Populations" in the Journal of Aging and Long Term Care. 2022 5 (1). Read more.
 
Allison McMinn was selected for the Summer 2019 Duke Research Experience in the Electrical and Computer Engineering Department within the Edmund T. Pratt School of Engineering at Duke University. She will be working under the direction of Professor Yiyang Gong with the project "Fluorescent Imaging of Neural Activity in Live Animals."
Carly Kasicki and Jacob Coddington are among the winners of the 2019-2020 for creating a new initiative on our campus, a student-generated class, UHON 351, Innovations in Sustainability:  Surviving in a Changing World to be offered in Fall 2019.  Carly and Jake have brought together faculty from various disciplines, including Art and Design, Geoengineering, Environmental Studies, Energy, Policy, Architecture, Media, and business to consider design in theory and practice as a way to conceptualize and find solutions for sustainable living. The class is a model of students taking charge of their education and pulling together the resources necessary to do so on our campus.  Read more about Green Fund awards here.
Amanda Blocker, senior in microbiology, and Scott Hamilton-Brehm, Assistant Professor of Microbiology, look at a sample of a microbe isolated from a 900-meter-deep borehole located on the border between California and Nevada.  Read more.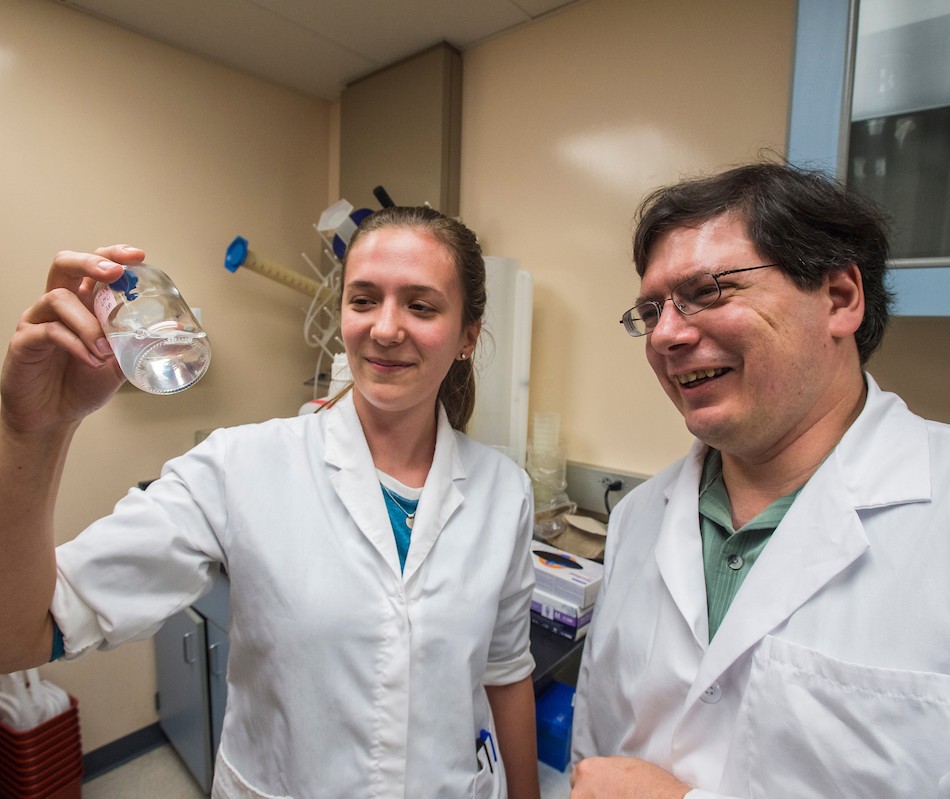 Lacey Gibson published, A Tale of Two Cities:  Differences in Wine Cultures in Nice and London in Gastronomica: The Journal of Food Studies (Volume 18, Number 4. pp 77-81.  2018)  Lacey developed this paper as an Honors thesis with Dr. Hurlburt, Professor, and Chair, Department of History.  In the paper, Gibson argues, that French wine culture may be a powerful tool to promote mindfulness and moderation.  Read more about Lacey's adventures after graduating.
Several Honors students are doing Undergraduate Research for the Department of Languages, Cultures, and International Trade. Read more.