Student Research Highlights
Main Content
Student Research Highlights
Allison McMinn was selected for the Summer 2019 Duke Research Experience in the Electrical and Computer Engineering Department within the Edmund T. Pratt School of Engineering at Duke University. She will be working under the direction of Professor Yiyang Gong with the project "Fluorescent Imaging of Neural Activity in Live Animals."
Carly Kasicki and Jacob Coddington are among the winners of the 2019-2020 for creating a new initiative on our campus, a student generated class, UHON 351, Innovations in Sustainability:  Surviving in a Changing World to be offered in Fall 2019.  Carly and Jake have brought together faculty from various disciplines, including Art and Design, Geoengineering, Environmental Studies, Energy, Policy, Architecture, Media, and business to consider, in theory and practice, design as a way to conceptualize and find solutions for sustainable living. The class is a model of students taking charge over their education and pulling together the resources necessary to do so on our campus.  Read more about Green Fund awards here.
Amanda Blocker, senior in microbiology, and Scott Hamilton-Brehm, Assistant Professor of Microbiology, look at a sample of a microbe isolated from a 900-meter-deep borehole located on the border between California and Nevada.  Read more.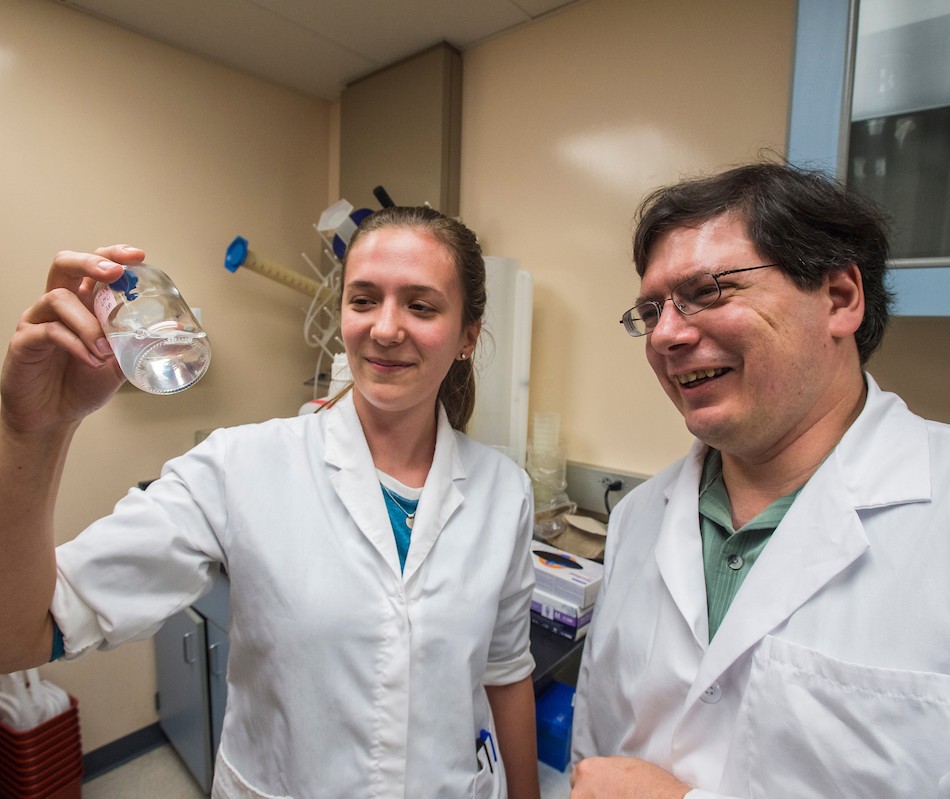 Lacey Gibson published, A Tale of Two Cities:  Differences in Wine Cultures in Nice and London in Gastronomica: The Journal of Food Studies (Volume 18, Number 4. pp 77-81.  2018)  Lacey developed this paper as an Honors thesis with Dr. Hurlburt, Professor and Chair, Department of History.  In the paper, Gibson argues, that French wine culture may be a powerful tool to promote mindfulness and moderation.  Read more about Lacey's adventures after graduating here.
Several Honors students are doing Undergraduate Research for the Department of Languages, Cultures, and International Trade. Read more.
Congratulations to all the Honors Students who received REACH grants for 2020-2021!
Shawn Arreguin                       Matthew Blalock                 Morgan Brown
Cassidy Brunson                      Francesca Burkett              Alana Campbell
Renee Davis                             Grace DuRocher                Daniel Fernandez
Jess Grygus                             Katlyn Helton                    Sharvath Kathi
Avinash Khatri                          Grace Lafo                        Lindsey Leatherman
Sami Park                                 India Piro                          Wyatt Powers
Lana Sawar                               Savanna Staley